News
05.14.2012
Last Thursday was the final outing for the 2012 MAW Class.  After being rained out on Tuesday, it was a big task presenting all the projects in one night!  Pieces included a tribute to fallen poet John Berryman at the Washington Ave Bridge, a 'Minnesota Stories' collage on the Gold Medal Silos, and a mixed-media text/chalk piece enacted at each site, to name a few.  Enjoy!
10.27.2011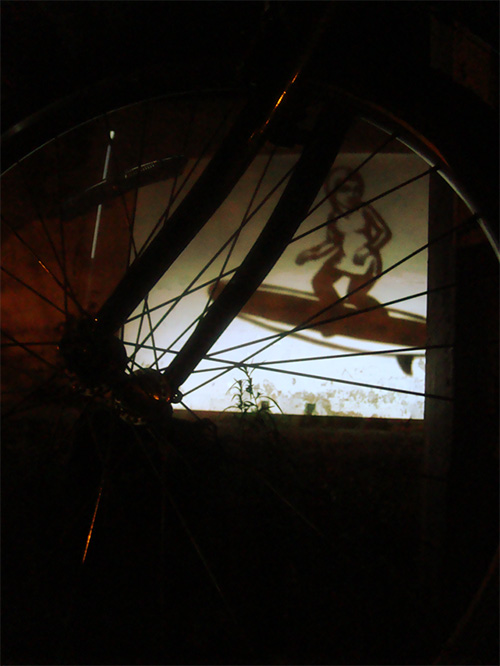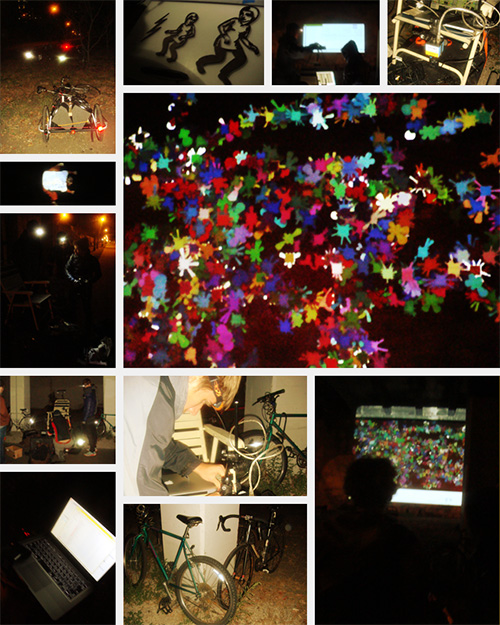 01.24.2011
MAW was contacted by AGT's producers this winter; we went in for a quick visit. Bright side: got to project in the largest space at the Minneapolis Convention Center.
01.21.2011
MAW and Jenny Schmid performed at Walker Art Center in collaboration with Walker Art Center Teen Arts Council (WACTAC). The piece invited gallery visitors to make collages of their imagined worlds. The collages were then captured via ipod touch controlled mini cameras, animated with Jenny Schmid's imagined inhabitants and projected live on surrounding walls.
11.06.2010
Collaborative installation with batchku, sinanji, one Lori Esposito and her crew of groovy students.
10.15.2010
Six projectors on the top of Northrop Auditorium displaying the viewer's faces mashed-up with video of the sea.
09.14.2010
This project uses live projected drawing in an outdoor urban setting as a medium for contemporary story telling. The work's title alludes to its dual starting point: "Exquisite Corpse" is a method by which groups of words or images produced by different authors are collected to synthesize a single composition. In the drawing game named after this method, each collaborator adds one section of a themed composition (often a figure) without complete knowledge of what the other contributors are producing. At the end of a round, these sections are assembled into a single image in order to produce a complete figure. "Lavish Martyr" refers the significant and evolving trope of the martyr in Iranian religious, political, and civic discourse; from Shiite Imam's Hassan and Hussein, to the millions of fallen soldiers and civilians of the 10-year long Iran-Iraq war, to the victims of the recent opposition movement like the immortalized Neda Agha-Soltan whose death during a protest in Tehran was captured on film and viewed widely on the net.
This works is an attempt to create a textual and pictorial conversation among four parties. A team of artist in Iran enter into an audio-visual visual dialog with a group of artists in San Jose through real-time collaborative drawing and animation. MAW's existing live projection software (mawLib) will capture each completed collaborative drawing, accumulate a series figures, and animate these figures in real-time as they find their roles in the on -going and -growing story. These animations will be projected large-scale and outdoors using a custom mobile broadcast unit (MBU) that MAW will develop on site during the 01SJ residency period. The public event surrounding these projections will open this conversation to festival attendees in San Jose as not only witnesses of the trans-national performance, but also as contributors: MAW's custom MBU will allow festival attendees to add another visual layer to the projection by drawing–if inclined–or a textual layer via Simple-Messaging-System (SMS). The techno-political obstacles to this attempt (national Internet firewalls, bandwidth limitations, censorship, etc.) will give life to a fourth character in the projected narrative. Real-time analysis of the bidirectional cross-Atlantic network traffic will guide this characters behavior.
The custom broadcast unit that MAW will build during the Out of the Garage Into the World residency will be a bicycle towed miniature theater with internal/micro and external/panoramic projection capabilities. The contraption will include the necessary hardware (computers, projectors, batteries/generator, drawing station, digital camera, wireless devices) and software (for projected live drawing and animation, network traffic analysis and visualization) for deploying the proposed form of mobile theater with local and remote participants.